Bringing New Life to a Pool Enclosure in Lake Worth
We received a call from a customer who had recently inherited a home in Lake Worth. The house belonged to a relative and the new homeowner had traveled down from New Jersey to put things in order and clean up the home to get it ready for additional family members. Along with some other scheduled home rehab and maintenance, the screened pool cage was in desperate need of a makeover.
Pool Cage Painters On Your Schedule
After spending a good deal of time with plumbers, carpet cleaners, and roofers, this particular customer was short on time and needed to fly home to get back to his job and family. He called Alliance Screen Enclosure Painting and we were able to provide him a quote from the pictures he emailed us. We agreed to do the job while he was away and sent him pictures for his approval. Of course, he loved them. He's the proud owner of a new home in South Florida and he'll have a great looking, newly painted pool enclosure to come home to when his family is ready to visit!
Scroll over the pictures below to see before and after examples:
Before & After Full View
Scroll Over to See Finished Cage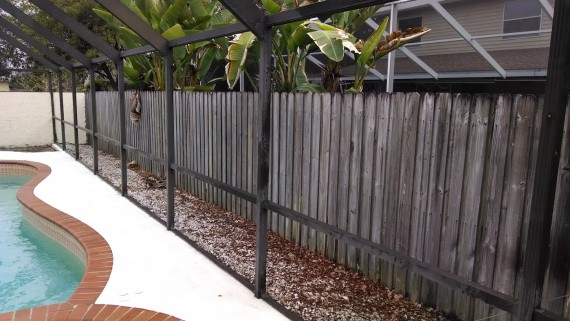 Before & After Close Up
Scroll Over to See Finished Cage